I'm happy to introduce the second of my new Lisette designs for the Fall 2017 Butterick catalog. Lisette for Butterick B6493 is a classic pencil skirt with a twist and a fun little blazer to wear with it. Both of these pieces will work well as additions to your core wardrobe, too!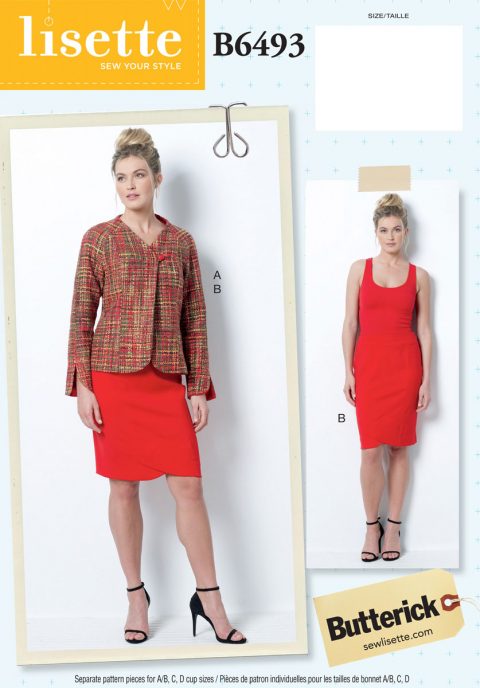 Let's talk about the jacket first, shall we? This is a raglan sleeve jacket with princess seams which are always easiest to fit, especially if you're full-busted. And to make it even easier, we added cup sizes for this pattern, so the full bust adjustment work has already been done for you.
This pattern is fully lined and on the fitted side, so if you're a fan of the shrunken blazer I think you'll really like this style. It's classic but not boring. And much easier to sew, too! The sleeve hem of the sleeve on this pattern has a fun little curve detail to let you show off a watch or bracelet underneath. And to make it really easy to sew, this jacket has no buttonholes–just a button loop closure. (But of course you can easily add a buttonhole or two if you want.) I particularly like the neckline on this one because it frames your face and collarbone so nicely. It's a bit raised instead of a flat V-neck so it really looks elegant. (And it would look great with a necklace, too!)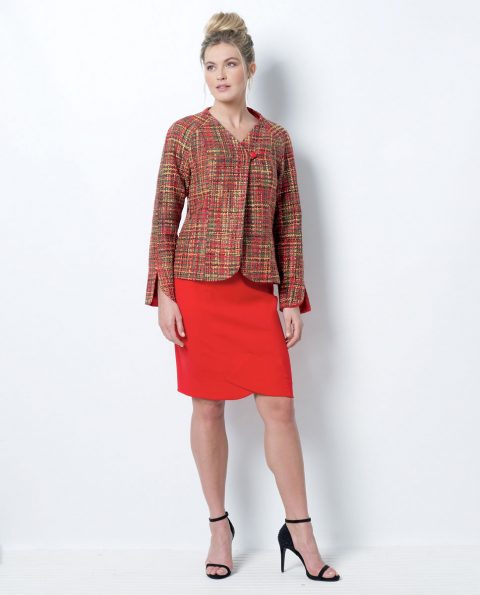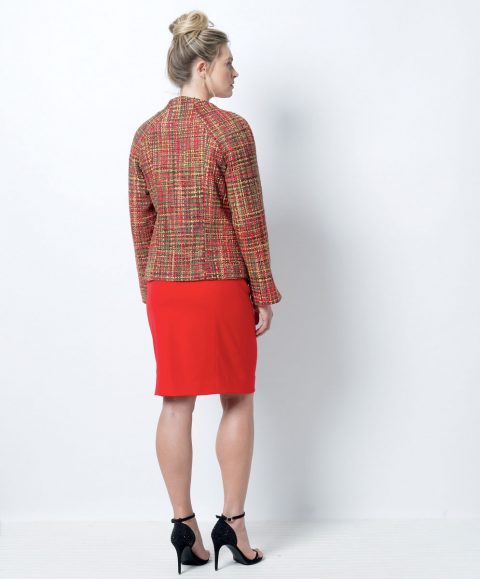 The pencil skirt has a cute little curved overlap detail at the front hem that coordinates with the curve detail on the jacket sleeve. It also features a waist yoke, an invisible side zipper, and front and back princess seams. So again, this skirt is easy to fit to your body. I'm a big fan of the princess-seam skirt, and I think this one will be a lot of fun to sew and to wear. (Sorry about the matching top. I know it looks looks a bit like a dress in this photo, which is rather confusing.)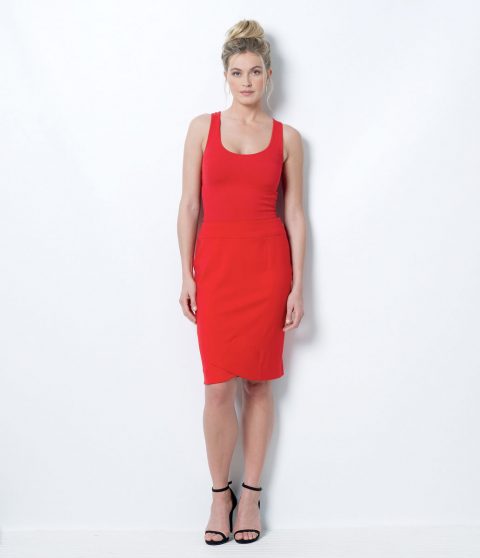 For both of these pieces I think you could choose solid or patterned fabrics. I chose a silk tweed for the jacket because I love the texture of all those different-colored yarns, but it will look more classic in a solid wool gabardine. Or go the opposite direction and use a brocade or jacquard for the jacket instead of the skirt. You could also sew both pieces from the same fabric if you want to have a suit.
What fabrics would you choose for these styles? You can find the pattern for B6493 right here. I hope you'll show us how it turns out! Post it to our Lisette Flickr group or use these hashtags on Instagram: #sewlisette #B6493. And don't forget you that can find lots more inspiration on the B6493 Pinterest board as well. I'll keep adding to it as I see more things that I think will inspire you.