The new Spring 2017 Butterick collection is available now, and it includes a new Lisette pattern for the season. This style has three pieces, so there's even more in the package than usual! Let me introduce you to Lisette for Butterick B6464.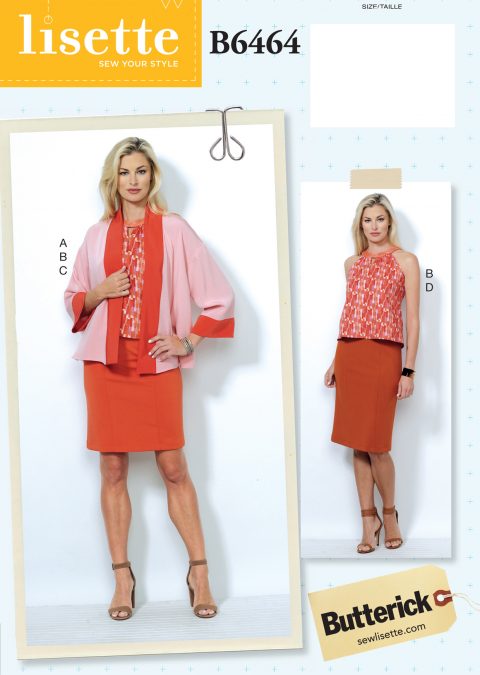 This pattern is all about separates for combining in many ways. Versatility is very important to me when it comes to designing and sewing. I want to give you pieces that you can wear in as many ways as possible, and I hope these items will do just that.
The kimono-inspired jacket isn't too literal, but it has a modern feeling to it. I love kimono-inspired jackets and think they're so chic. Ironically, after designing this pattern I was in Paris for a fabric show and all the fashion industry insiders were wearing long, dramatic kimonos that were probably too extreme for "normal" wear (unless you're a fashionista–you know what I mean).
This is my take on a more wearable contemporary kimono for layering. It's a simple piece that can be styled lots of ways. You can sew it color-blocked like we show in the sample or you can make it in all one fabric. It's meant for drapey fabrics so it will have lots of movement, and you could easily lengthen it for a more dramatic, fashion-designer feeling if you want to sweep into the room, ready for your close-up. It's also easy to sew, with a dropped shoulder (no eased-in sleeves!) and bands at the sleeves and front edge.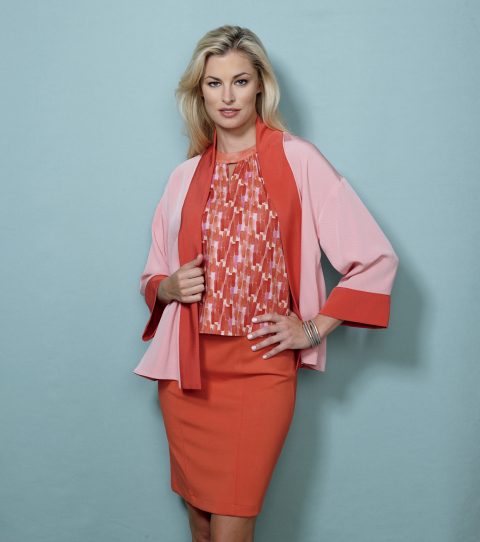 The fun thing about a jacket like this is that you can throw it on over almost anything. The Paris folks were wearing theirs over ripped jeans (which is how I wear mine a lot of the time, too) and strappy heels, but obviously it also works with the pieces in this pattern for a more professional look that you can wear to work as well. I think it would be great to wear in the summer when it's too hot for a tailored jacket but you need an layer for the air conditioning. I'll be making one for myself this spring because the evenings here in Madrid get cool.
Next: the top. I think shoulders are a fun way to show a little skin without being too revealing. This is a really easy piece to sew. It can be made in drapey and lightweight fabrics like voile and lawn or in silks and satins, but it will also work in regular cottons and shirtings. If you want, you can use a contrasting fabric for the neck yoke, and then there's the little keyhole opening at the front and the gathering at the neckline which eliminates the need for bust darts. This top could be worn so many ways. You could even lengthen it to make a dress or a tunic if you want. I think it will be a terrific summer piece.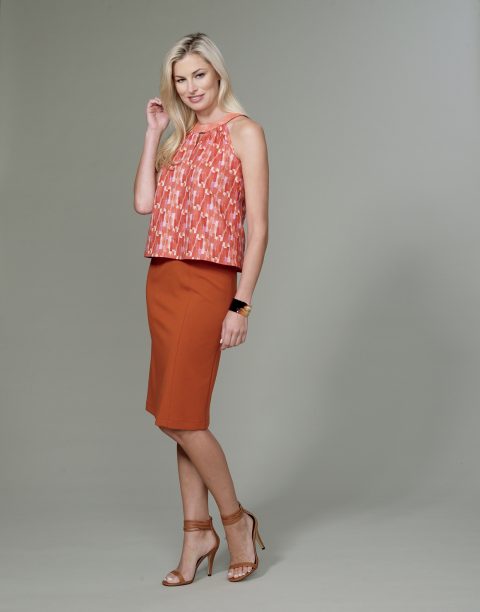 The skirt is designed specifically for knits. I wanted it to be more structured than the usual tube skirt, so I included princess seams and hidden elastic in the waistband. You can make this in either of two lengths: just above or just below the knee. If you choose a knit with some spandex that has nice recovery it will keep its shape and be really comfortable at the same time.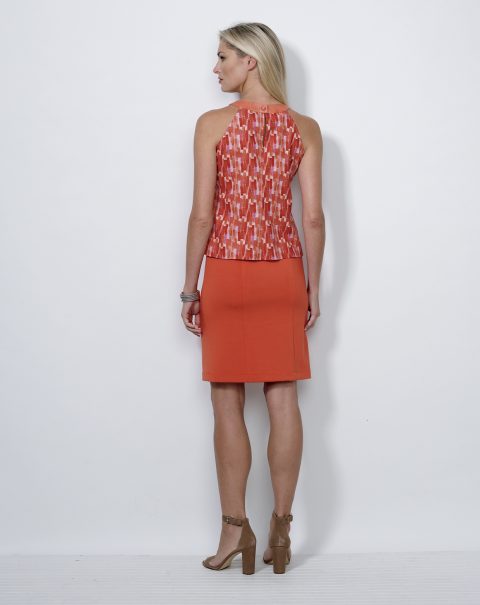 I hope you enjoy sewing with this style! You can find the pattern itself right here.