I want to feel cozy in the winter. Because, who doesn't when it's cold outside, right? But it's also really nice, and sometimes important, to look and feel elegant and feminine in the winter. So I thought it would be great to have a dress pattern that did both: elegant and cozy.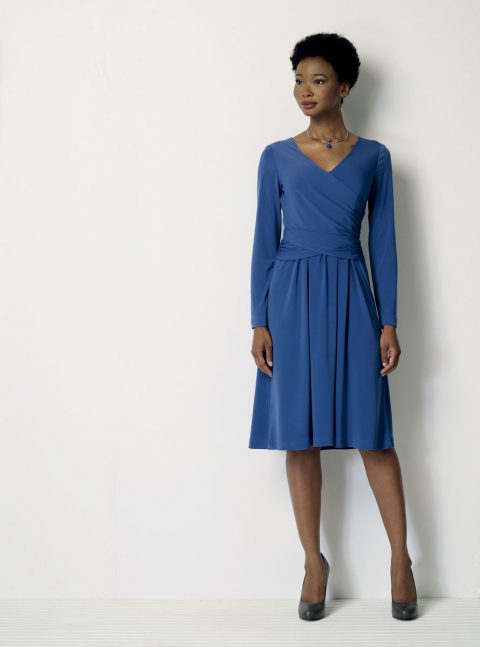 This dress pattern, Lisette B6411 for Butterick, is designed specifically for knit fabrics. It's the kind of dress you slip on in the morning and then forget about for the rest of the day. You look fantastic, but you also feel really comfortable. This is a work-appropriate dress if ever there was one. It includes a faux-wrap bodice and can be made in all sorts of jersey. Right now I want to sew it in wool jersey, but I also found a really beautiful soy/cotton jersey at Drygoods Design in Seattle while I was there and I can't wait to use it for this pattern.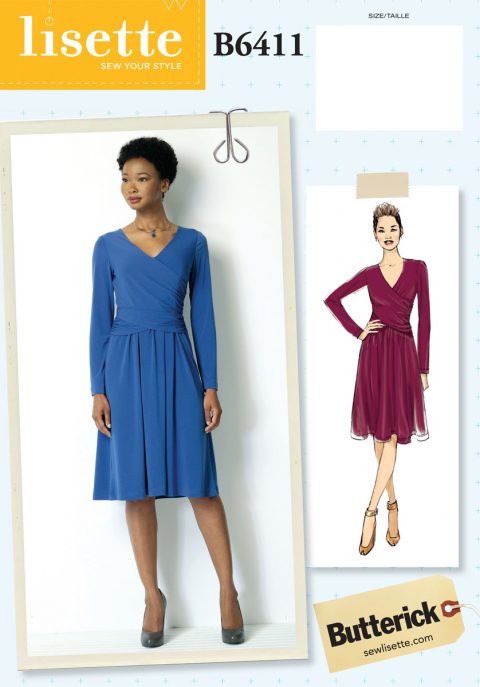 A few favorite fabric ideas for you: Robert Kaufman's Laguna jersey is cotton with just enough spandex for good recovery. I love it, and it comes in a lot of great colors. Kaufman also has a new ponte that is more limited in color choices but has a fantastic hand. Mood has a ridiculous selection of jersey right now. (Be sure to swatch first, since quality and weight/hand can vary quite a bit, especially with jersey.) And I've done really well with Girl Charlee, too.
Here are a few styling ideas for this pattern. I really love the idea of adding a belt, which I'm going to try. And you know me: I'll be lengthening the hem to a midi length, too. I'm kind of obsessed with the idea of a burgundy dress and charcoal gray tights right now.
This dress is rated easy by Butterick, and I think you might be surprised at just how straightforward and quickly it sews up. Of course I hope you'll tag your photos #B6411 on Instagram and add them to our SewLisette Flickr group as well. I can't wait to see how you sew this one!