I don't know about you, but in winter I never seem to be warm enough. My sisters and I are all alike in this regard; we walk around the house draped in layers of sweaters, blankets, and scarves. So when I think about winter dressing, I think about being cozy. And this new coat pattern, Lisette B6243 for Butterick, is definitely cozy. Just take a look at this.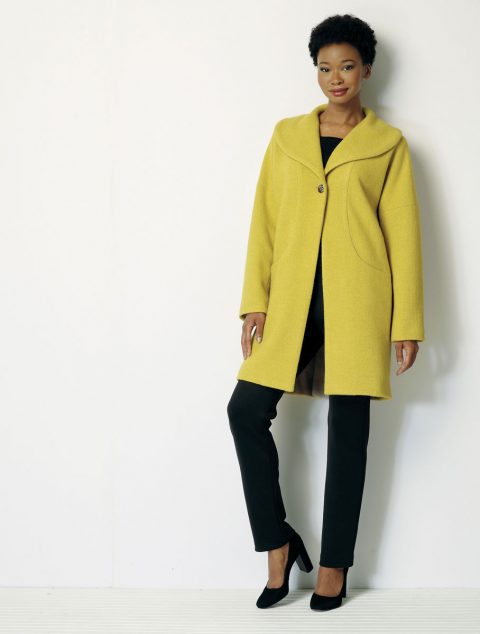 And this.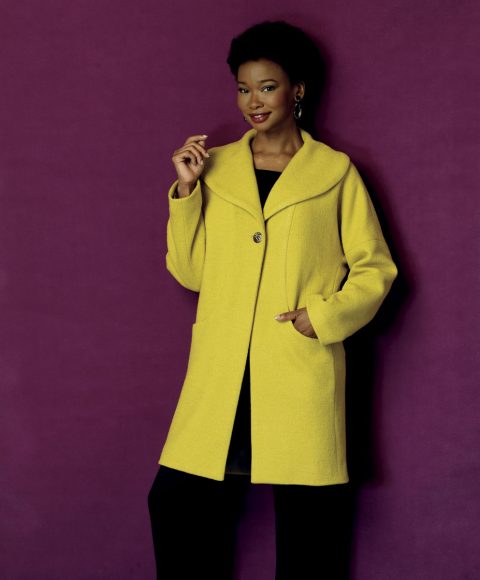 For fall I introduced you to a classic winter coat pattern, Lisette B6385 for Butterick. That coat is your essential dressed up, going out coat. I wore mine on my book tour and it looked great with everything I packed: jeans, pencil skirts, dresses, you name it. I got loads of compliments on it everywhere I went.
But when I want to be really comfortable, I prefer a less fitted style so I can snuggle right into it no matter how many layers I'm wearing. (Usually it's a lot!) And the new Lisette B6423 is that coat.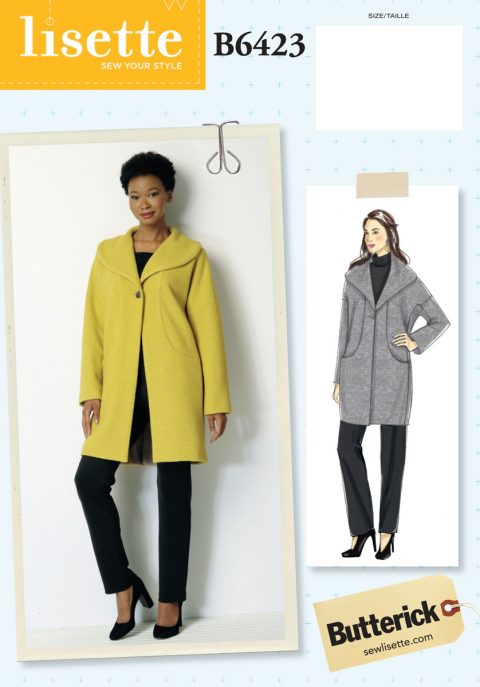 This coat is a dropped-shoulder, shawl collar coat with a loose-fitting shape. The details include stylish front princess seams that curve into front pockets, as well as a dropped-waist back seam with a kick pleat that I just love. I also included a side panel with an under-arm gusset that allows for additional movement. The sleeve is wide enough to fit your bulky sweaters without being a full-on 1980's style batwing/dolman. (I just can't go back there, having lived through it once.)
What fabric to use? Oh, so many choices! The one that the model is wearing is a dense, stable knit that resembles a boiled wool, which would be amazing if you can find it. Otherwise melton wool, wool-cashmere blend (so soft!), or anything with a little texture. Double-face wool would be lovely, and a jaquard or fuzzy wool would be so much fun for this coat! Whenever I'm in New York I drop into Beckenstein Fabrics on 39th Street because, in addition to their amazing selection of men's shirting fabrics, you can often find really interesting plaid wool coating in the very back of the shop, hidden behind the suiting fabrics. The choices often have a bit of a vintage feeling to them, which is tough to come by these days. I also love New York Elegant Fabrics for their variety of interesting coat fabrics.
You could also pick something lighter weight if you live in a warm climate. I think an interesting twill would work for this pattern, and you could even use wool crepe if you really wanted. Whatever you do, pick something fun and luxurious for the lining. I'm still hunting for the perfect lining for the fuzzy turquoise wool I found in Paris last spring and purchased specifically for this coat. (I can't wait to show you!)
I hope you'll love sewing this pattern! It's rated easy by Butterick, and it sews quite quickly. If you make it, be sure to tag it #B6423 on Instagram and upload it to the SewLisette Flickr group. And while you're sewing it, don't forget my tutorial for a bagged-in lining, which involves little-to-no hand sewing and will save you lots of time. You can find all the details and steps in Day 5 of the Lisette moto jacket sew-along.