As we were preparing for our move to Spain this past summer, I was surprised by the number of athletic pieces I packed. I guess I don't really think of myself as a wearer of athletic clothing, but exercise does play a big role in my life. I exercise almost every day because it helps me to manage stress and to feel good. (I do a combination of yoga, running, and ballet.) I'm guessing that exercise plays a role in your life too, or that you want it to play a role if it doesn't already. So when it came time to design another Lisette for Butterick collection, it made perfect sense that the new designs include active wear in that mix. I mean, your wardrobe includes your exercise clothing, right? Even if it's not part of your wear-to-work wardrobe, many of us rely heavily on active wear in our lives.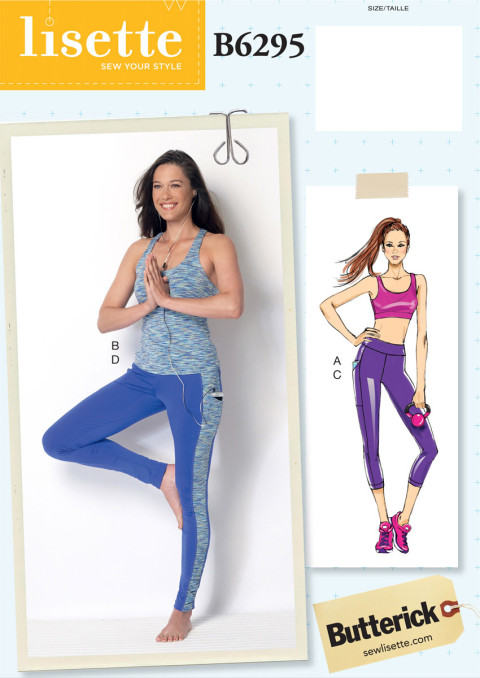 Lisette for Butterick B6295 includes four pieces. First there's the sports bra (View A), which I prefer to call a "yoga top" because it just sounds nicer and because this piece is stylish enough to be worn alone. But it's also designed to work for many of us as a real sports bra. I wear mine when I run, and it's very comfortable. The front of the bra is lined and includes a fun little detail that allows you to add removable cups for extra support and shaping. This is my favorite detail on the bra, and I think it makes it a really useful pattern.
That same removable cup detail is included in the tank (View B) with built-in shelf bra. Nice, right? Both pieces (bra and tank) can be sewn with two different strap options for extra versatility and style. I'm particularly enamored of the double strap detail. I've been seeing lots of similar styles in my yoga classes, and the straps are a fun little touch that make the tops special. But if you don't want to fiddle with sewing narrow straps, choose the single side shoulder strap option instead. Either one is cute, stylish and practical, and the elastic inside the straps gives you good support that you can adjust as you're sewing to get a perfect fit. (How nice is it to be able to try on the top as you're sewing it and sew the straps the perfect length for your body? You just can't do that when you buy your active wear in a store!)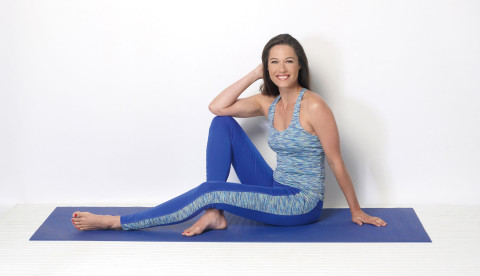 But the leggings are my favorite piece in this set. They include a side panel with a little pocket that's just the right size for your cell phone. Or keys. Or a little money, just in case. (The first time I went running in Madrid, I put cash in one pocket of my leggings just in case I got lost and needed to take the metro or a taxi home. Do you do this too?) I love the ruching detail at the hem of the full-length leggings (View D). It's a fun little addition to the pattern that makes the leggings special. I also love the yoke seam at the back, which flatters the rear view. The seam is like an optical illusion that gives you a visual lift, if you know what I mean. Sew the leggings full-length or cropped (View C), as you like.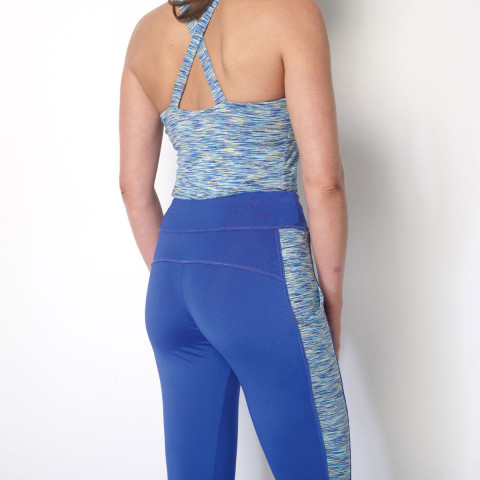 In terms of fabric, you'll obviously want to look for lycra/spandex fabrics with two-way stretch, meaning that the fabric will stretch in width and in length. So ordinary cotton T-shirt jersey isn't going to cut it here–you want the power stretch fabrics, which are more similar to swimsuits. Fortunately there are lots of great options for these sorts of fabrics right now. I'll see if I can assemble some ideas for you, but I think you might also be pleasantly surprised by the options you'll find in your local fabric store. When you're shopping, look for fun patterns and colors. I love the space-dyed fabric we used for the pieces on the pattern cover, but look for interesting prints too.
But don't be afraid to think outside of the box, too! Over the last couple of years there's been a real trend in the fashion world toward "athleisure," which is active wear worn as street wear. Some athleisure pieces are quite luxurious, too. While I'm personally not a big fan of wearing workout clothes as street wear (I'm in Fran Lebovitz's camp on this topic), I do love mixing dressy and casual pieces, so I think it will be fun to play with these patterns to sew them as versatile fashion items that work into my regular wardrobe. I'm especially looking forward to playing with the leggings pattern. The other day I bought a stretchy, lightweight faux leather that I'm going to combine with matte spandex. I'm thinking of it as texture blocking rather than color blocking, since both fabrics are black. I think it will be fun to wear the faux leather leggings with chunky sweaters this winter. And the tank will be a great layering piece as well. I haven't found any really fun prints for this one yet, but I'm still on the lookout!
Oh, and for the sewing construction we found a fun way to sew the leggings that allows you to get the look of a coverstitch without the need for a coverstitch machine–or even a serger if you don't have one! Your basic straight stitch and zigzag will do the trick. But of course it's always nice if you have a serger; it gives such nice results and is so fast.
I hope you'll have a lot of fun with this pattern. I'll show you my faux leather legging as soon as I finish them and hope that you'll post your photos to the Lisette Flickr group. Or tag #sewlisette and #B6295 on Instagram.