Let's talk about Lisette for Butterick B6260, shall we? This pattern includes a blazer and skirt. Both are fully lined and really versatile pieces. The jacket, while it works great with the skirt, would also be really cute with jeans or with trousers. The skirt is a wardrobe basic that will flatter lots of body types. But I'll talk more about that later.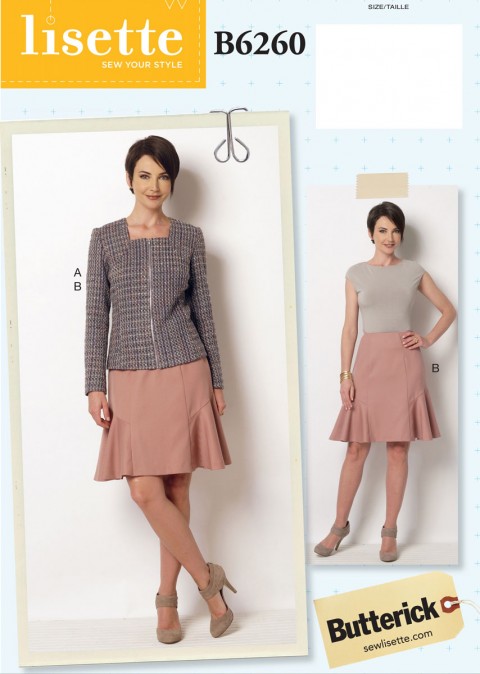 When I teach fit classes and when I hear from many of you, you often tell me that you want clothing that flatters your curves. A lot of jackets are too boxy for your taste. This jacket is my answer to that complaint. The princess lines will allow you to easily alter the jacket to fit your own body and fit preferences, and it's more fitted and more curve-flattering than most jackets. And the details make it really interesting and give you lots of opportunity to play with fabrics and styling.
The jacket looks pretty conservative in the envelope photo, I know. But don't limit your creativity to what you see there!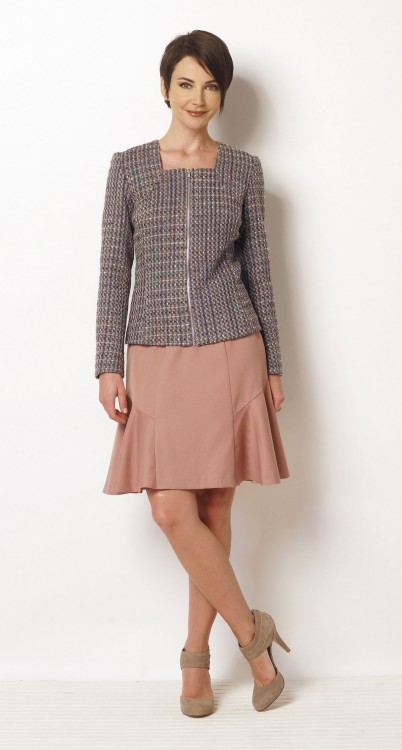 It can be worn open, too.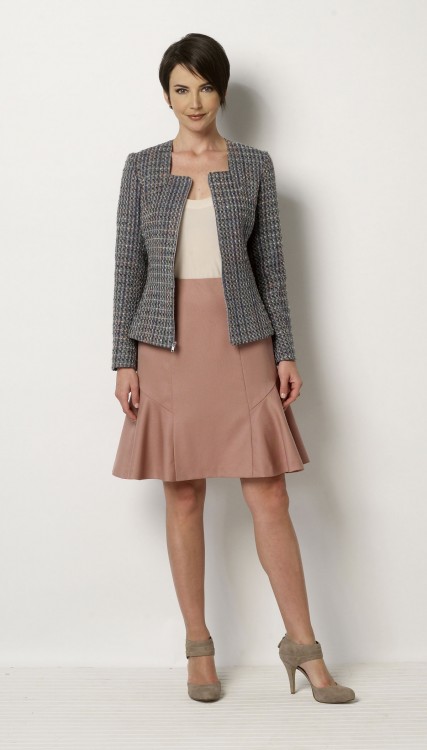 I plan to sew this style with a nubby silk tweed similar to the photo (I'm considering over-dyeing my fabric with indigo if I can find the time!), but I want to include a bit of that fringe idea at the bolero detail like the original Taylor Swift inspiration. (I think Taylor's dress is Chanel, but I can't seem to find it in runway photos.) I think this style could also be really cute in chambray, leather, or suede, and maybe even mixing a couple of those elements!
I also think it could be really fun to play with multiple fabrics for this pattern. Select a really playful, vibrant fabric and a more serious fabric and put them together for an interesting effect. Or you might choose an all-over pattern.
Does that give you a sense for this jacket? I hope you'll enjoy the pattern. I think you'll find that it's easy to fit and to sew! Have fun with it and with your fabric selections.
Now, on to the skirt!
I've talked about the difference between a flounce and ruffle before. Both options give movement to a skirt, but a flounce gives you movement and a smooth silhouette, without the bulk added by a ruffle. And we're all a fan of less bulk, especially near our hips, yes?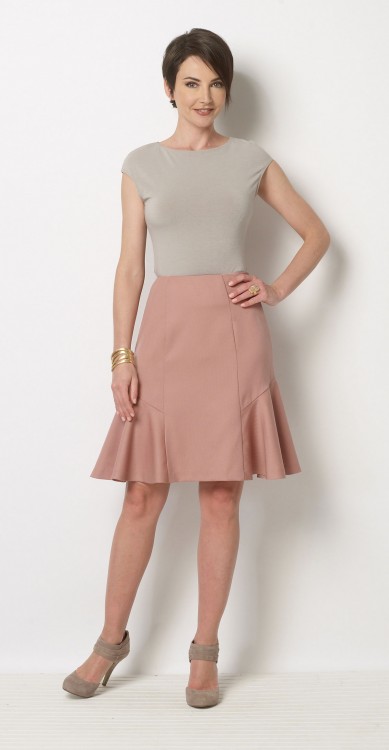 A skirt like this can be especially flattering. Like a classic A-line skirt, this style draws attention to your waist instead of your hips or thighs. If you don't have much of a waist, this style can give you the illusion of a waist. If you need to balance a full bust, it will do that while emphasizing the waist. If you're pear-shaped, it will draw attention away from your lower half. A-line skirts are sort of magical that way.
This skirt style is pretty straightforward, I think. It works really well in gabardine, sateen, linen, tweed, and wool suiting. You know that faux leather I mentioned yesterday? Perfect for this. I might try wool crepe, just because I'm a fan. I've been hunting for just the right shade of pale aqua for weeks now and haven't found it, but as soon as I do you know I'll get busy.
There you have it! As always, post your photos of your sewing to our SewLisette Flickr group or tag them #sewlisette and #B6260 on Instagram so we can find them. I can't wait to see what you make!