I've always felt that, as a designer, it's my job to encourage you to try new things. And that includes encouraging you to try clothing shapes and silhouettes that you might not otherwise consider for yourself. I mentioned this in my Ask Me post on the Oliver + S blog last week, and I'll address it more in the months to come.
Even if you think you know what looks good on your body, keep an open mind for now, OK? I promise you that if you do your horizons will be expanded, you'll have a whole new set of silhouettes available to you, and you'll ask yourself, "Why didn't I try this sooner?"
Many women seem to think that dresses without a defined waist are "shapeless" and that they shouldn't be worn by anyone except the ultra-slim. That's absolutely not the case! I'm on a crusade this year to educate women who sew for themselves that they can wear styles other than 1950s-inspired dresses with a fitted bodice and defined waist. And I'm starting that crusade with one of our newest Lisette styles–the dress included in Butterick B6169.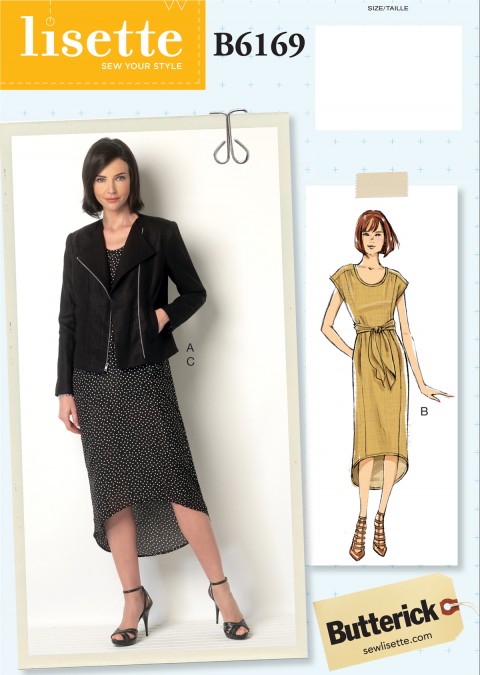 This style is a relaxed dress designed for drapey fabrics like silk and rayon. It includes kimono sleeves (no set-in sleeves!) and an oversized but very slimming silhouette that's popular right now. This pattern can be sewn with or without the included sash, which is shirred and attaches at the center back. You could also shorten the pattern to make a cute tunic or top, as I'll show you.
A few things that I like about this style: it's extremely easy to fit due to the built-in ease. This ease includes gathers at the yoke which gives the dress design ease and also leaves extra room at the bust for women who need it, but it's not too much fabric that it will overwhelm a smaller-busted woman. The princess seams will allow you to customize the fit as needed, since princess seams are the easiest to adjust for a good fit. And who can resist pockets in a dress? They're practically invisible on this one, which I love.
Here are some styling ideas that I've assembled for you.
1. This dress reminds me of all the Japanese sewing books that are so popular. The dress is relaxed in feel, but the optional waist tie in the pattern helps to give it more definition and shape that most of those dresses. The socks and boots give the outfit a little attitude and edge.
2. This outfit looks so sophisticated and contemporary with its neutral palette. I love the loose, relaxed flow of the dress.
3. Isn't this color-blocked dress fun? I love the colors and way the front is bright and colorful but the back is quiet and serene. You could play with all sorts of colorblocking on this dress, maybe using a darker color at the side panels to give a slimming look.
4. This elegant dress from Maria Cornejo expresses everything I love in a loose-fitting dress like this style. The fabric skims the body and gives a long line–you just need find the right hem length to keep the proportions right.
5. You could easily shorten the front hem like this tunic. I like the balance with the skinny jeans, and the shibori effect at the waist is quite slimming and helps to define the waist.
6. Shorten the dress to make a really cute top! With all the great printed rayons available right now you could make all sorts of really cute tunics and blouses!
7. I know, another black dress. But the shirring at the hem is a nice touch, isn't it? A midi-length dress like this seems like a nice alternative to the ubiquitous little black dress. It's less fitted and a little more mysterious so it leaves more to the imagination, which is much more chic than the hyper-sexy fitted mini dresses that have become the standard.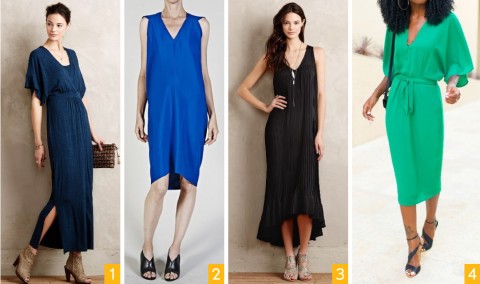 1. This drapey indio version is so chic. Hem it just above the ankle and cinch it with the sash, which is shirred and sewn at the back waist so it's really quite a chic alternative to just the basic sash you may have expected.
2. Another Maria Cornejo number. This dress is almost architectural in its simplicity, and the cobalt is just gorgeous.
3. When is the last time you heard anyone mention cotton gauze? I remember when gauze was very popular, and it's starting to reappear here and there. It's a great fabric for summer because it breathes, drapes, and naturally develops little relaxed pleats. Use a heavier gauze for this pattern and it would make an elegant sundress.
4. A chic jade version. Again, the sash give you a nice shape while still allowing the dress to drape and skim the body.
All of these image and many more are collected in my Lisette Pinterest board if you're looking for more fabric and styling ideas for the Lisette patterns.
A few hints to leave with you: When you're making this pattern be sure you leave enough ease for a good drape–that's the crucial element for this dress to fit correctly. By leaving it loose, the fabric will skim the body and give you a nice long line. Also, this style looks best with a sleek shoe. Take a look at the shoes in the photos if you need a little inspiration. You don't need a high heel for this one, just something that's not heavy and clunky (photo 1 in the top image excepted–for that you need a little attitude and probably a lot of height).
With all the pretty printed rayon, silks and double gauze options out there, you have lots of fun options for this dress! Which version in these photos do you like best?