There's a lot of print mixing happening in fashion these days. Some of it is easy and straight-forward, and some of it requires a certain bravado. The more dangerous print mixing throws out the usual rules and embraces a bit of chaos: clashing colors along with  similar scales and textures, rather than coordinating colors and varied scales and textures. This knit top from J. Crew is a great example of the new wild: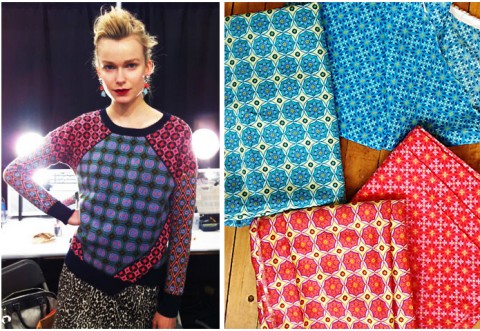 If that feels like a bit too much to you, however, you might test the waters by mixing prints with a similar color palette, and challenge yourself only with the proximity in scale and texture of the prints. This way, you're taking a little bit of a risk but not really jumping into the deep end.
I've shown coordinating Lisette sateen and lawn fabrics here, and they could be very cute together sewn up as a Souvenir Blouse so you get the same raglan sleeve effect as the J. Crew top. This could be great for spring and summer!