Have I mentioned yet that we have a new Lisette pattern out for spring? No, I didn't think so.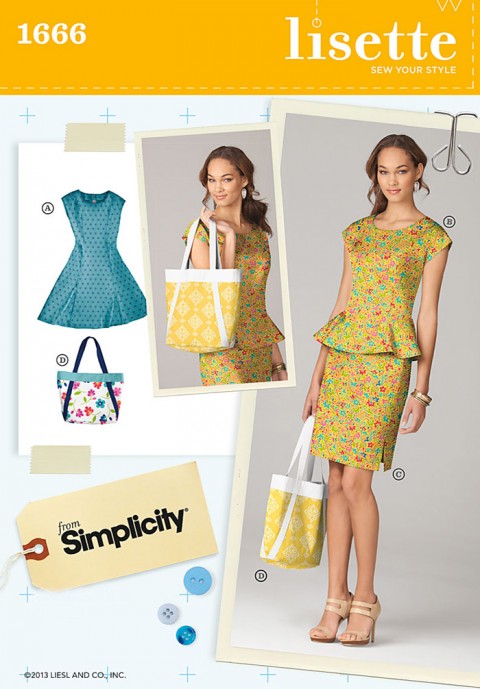 After staying up late for two nights in a row to finish my new Lisette Attache Dress (Simplicity 1666), there was no way I was going to let a little problem like being alone in the studio yesterday with no one to photograph it stop me from showing you! (It's been a quiet week in the studio, which has allowed me to make some terrific progress on next spring's Lisette fabric collection.) The envelope for this pattern doesn't do the dress justice, so I wanted you to see it on someone. That would be me, I guess.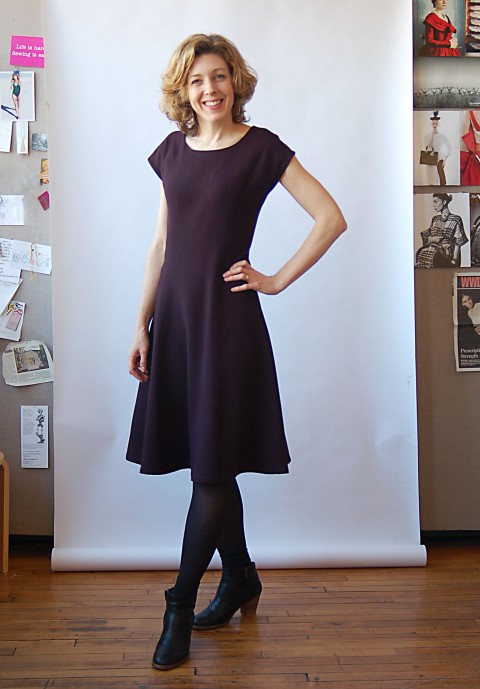 This dress is so easy to make, especially since there are no sleeves to set in, and the princess seams make it easy to get a nice fit. You can take a little in here or there, as necessary, to tweak it for your own shape. This is a semi-fitted dress, which means that it's designed to fit closely to the body but not tightly. It should skim the body, not restrict it. It's also very flattering because of the built-in cap sleeves and the shaping. The cap sleeves and flared skirt really help give the illusion of a tiny waist!
I know some of you really like to wear a belt, and here's a photo to show you that it can be done with this dress.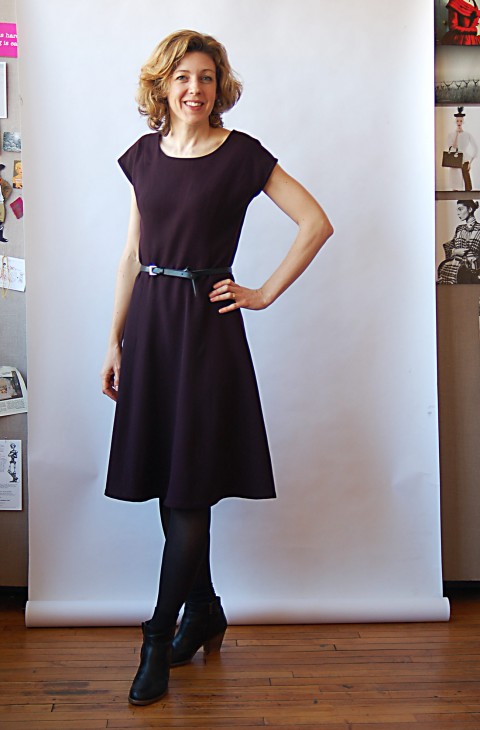 I sewed my Attache Dress from raisin-colored wool crepe because I didn't want to wait until spring to wear it. I love sewing with wool crepe. It's so forgiving and drapey. I lined my dress, which is why it took a while to sew. The pattern doesn't include a lining, but it's easy enough to add one. I plan to wear this with jackets and sweaters, and it's been fun to pair it with boots and tight in this cold weather. I'll swap them out for other accessories as the weather warms up.
I just finished cutting out the peplum top from this pattern in one of the new Lisette fabrics, too. If I manage to finish that new Lisette fabric collection and get through next weekend's big birthday party (theme: pink, number of little girls: 6, number of craft projects planned for the party: 3, number of things I need to finish before the party: 37?) I'll sew it up and show it to you soon. At this rate, who knows when I'll get to the skirt or the bag patterns that are also included in the envelope!