I know it's been a while (too much of a while…) since we've done a Wear Your Style Friday post. Sorry about that. But we've been very busy with pattern and fabric design around here lately.
OK, enough with the excuses and on to the good stuff! Here's a wonderful Diplomat Dress sewn by Rose in an eyelet (yes, eyelet!) that showed up in the Lisette Flickr group recently.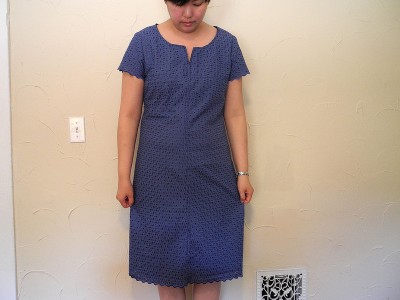 I think this dress is right on trend in terms of color and fabrication, and that it looks wonderful on her! Here's what Rose has to say about it.
I made the dress to wear to a friend's recent wedding. I used blue eyelet cotton fabric with a scalloped selvedge edge.  I used View B of the pattern with short sleeves, cutting the bottom and sleeves of the dress carefully to have the scalloped edge.  I wanted the dress to hit me at the knees, so the complete View B length worked out, with no hemming, although I wish I had cut it about an inch shorter.  I used an invisible zipper and let out the side seams a little; otherwise no other modifications. Because of the eyelet holes, I debated whether to add a lining, but decided to just wear a black slip underneath instead.  I really enjoyed the pattern and love the fit!
You can see more of Rose's creations on her blog. Thanks Rose!