Hilary sewed these adorable Souvenir Shorts using one of Denyse Schmidt's fabrics. (This lightweight canvas is from her County Fair collection if I recall correctly.)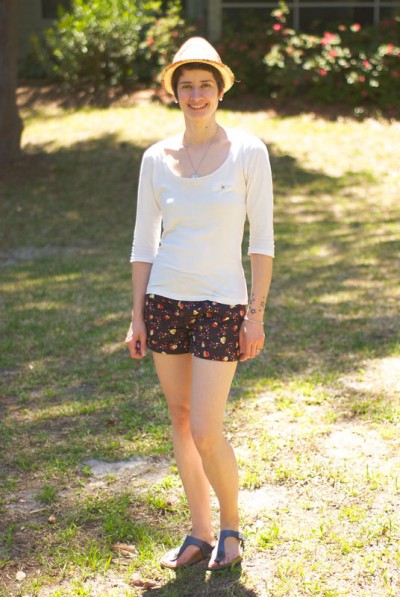 Here's what she has to say about them:
I saw a pair of floral shorts in a store last year, so when the Souvenir pattern arrived I sewed up the shorts with some flowery home-decor Denyse Schmidt fabric. I think the patterned fabric adds a bit of punch to an otherwise casual outfit. So far, I've been wearing them with a  t-shirt for hanging out in the garden or at the beach, but I think you could also dress them up them with a lacy top or a cardigan for Sunday brunch.  I love that they zip up the side, and have little pleats, which means the front has a smooth, flattering fit.  It's always hard to find time for "selfish sewing", but these shorts sew up pretty quickly, so I'm already planning another pair in bright blue twill.
I think they look great on her. Thanks for showing us how you wear your style, Hilary!