The Diplomat Dress is getting a lot of love this spring! Next weekend I will be in Boulder, Colorado, leading a fit workshop for the dress at The Makerie. I'm really excited to be helping the participants (I think we should all ourselves "Makeries") to customize the dress for their own shapes.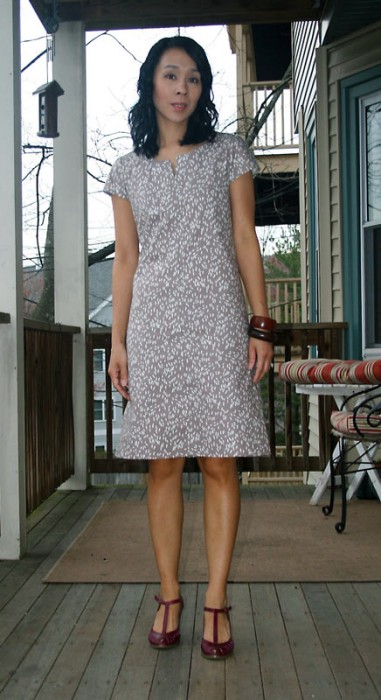 Jeanne made this adorable version of the dress (and don't you love the shoes she has paired with it!) and has this to say about it:
Since the first Diplomat Dress turned out so nicely, I decided to make another one using a smaller scale Lotta Jansdotter print. This time around, I made View B and added short sleeves to the dress. During our recent preview of summer weather here in New England, I paired the dress with cranberry-colored t-straps for an added punch of color. This dress has already proven to be very versatile given its seasonless nature.  I've worn this dress with tights, boots, and layered a cardigan on top on colder days. Once I find a pattern that I love, I tend to reuse it over and over again, so I'm positive I will be sewing more Diplomat Dresses soon.
I'm glad to hear that, Jeanne. It looks great on you, and I'm eager to see what our workshop participants make for themselves in the coming weeks, too!