To be perfectly honest with you, the Diplomat Dress is my favorite dress. Ever.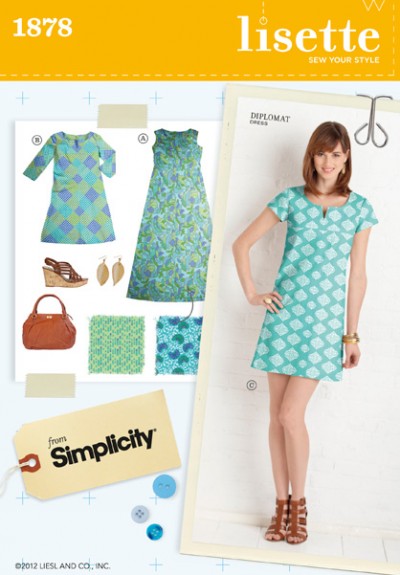 I was inspired to design this dress when I found myself collecting all sorts of images of dresses with a similar silhouette. All those images, both vintage and contemporary, went up on my inspiration boards so I could spend some time studying them to determine what it was about them that I liked.
There were several features that were especially compelling. First of all, I think the silhouette is flattering to a variety of figures because its gentle, flattering lines skim the body but still gives you a nice shape. In other words, it's a feminine, figure-flattering dress. The bodice is fitted and slim through the waist, while the A-line skirt can camouflage hips or give the illusion of curves, depending on your figure type.  This dress actually emphasizes and enhances an hourglass shape.
My favorite part of this style is the yoke seam. We constructed the pattern so that the lines are very clean and simple, and to do that we moved all of the shaping, including the bust darts, into the seams. This gives the dress a contemporary look, and it also gives you a great opportunity to play with the topstitching along the seams. I emphasized the seams on my navy linen version, above, by topstitching them in a turquoise thread to match my favorite shoes and turquoise necklace. When I made the maxi-dress version, below, I downplayed the topstitching by stitching it in a matching thread so it didn't detract from the dramatic print.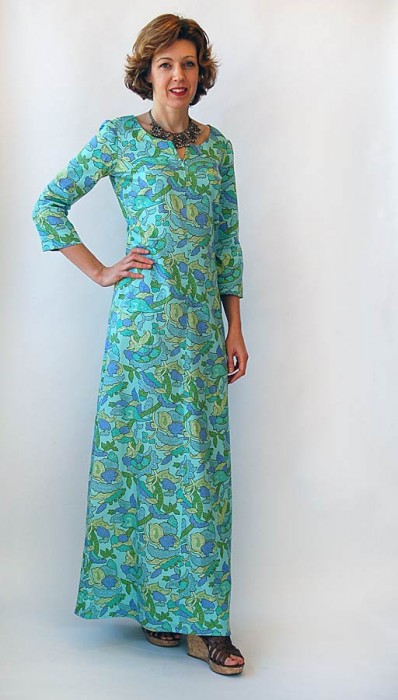 I also like the neckline on this dress. It's a nice, open shape with a little notch detail that deepens it a bit while still remaining demure and sweet.
The pattern comes with three different views, so you can mix and match them to sew your own style. Choose from sleeveless, short sleeves, or three-quarter sleeves. And select the length you prefer: from a mini-dress, just above the knee, or the more dramatic maxi-dress length. For my Palm Springs version (the maxi-dress, above) I added the three-quarter sleeves to the maxi dress length because I wanted a caftan look.
I hope you'll like this dress as much as I do. I'd love to see how you wear it!