I've been looking forward to introducing you to this style, the Souvenir Dress, Blouse and Shorts.  This style came from two sources. It was initially inspired by a favorite blouse I own, and that design inspired the Oliver + S Class Picnic blouse, which in turn inspired this pattern.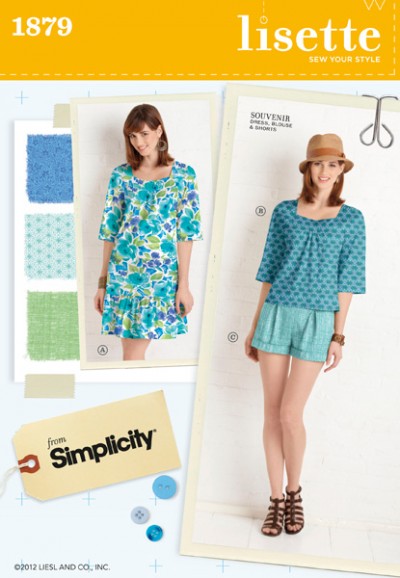 The dress and top are a relaxed, pull-on style with no closures. The raglan sleeves, square neckline and yoke are all fun details. I love the way we clean-finished the yoke. It's a fun, easy style to sew, and I'm a big fan of the dropped-waist dress style, which I'm happy to report has been making its way back into fashion. (I'm planning to wear this dress at the Sewing and Stitchery Expo in Puyallup, Washington, tomorrow where it's expected to snow. Here's hoping I don't freeze!)
The shortened top version of this pattern is my "go-to" blouse pattern this summer. It sews together quickly, and the relaxed fit is perfect for our ridiculously hot, humid summers here in New York. I'll be making it in our printed lawns so I'll have a variety of comfortable tops to choose from. I made sure the hem at the sleeves was really wide to give it a little weight and so it would be a visible detail when made up in semi-sheer fabrics like this, too. You'll see what I mean when you make it yourself.
And of course the shorts. They're short, but not too short. I think they have a little bit of a vintage appeal, don't you? But they're completely modern, too. The waistband sits below the waist, a little lower than most of our other styles so far, and the wide yoke is flattering to your backside, if you know what I mean. (It's a little like well-placed back pockets on jeans. Have you read this blog post about "Mom jeans"?) The front pleats give a little extra room through the hips and thigh, and the side zipper keeps the silhouette looking clean (and makes the shorts much easier to sew than a traditional fly). See? I never dreamed I'd be posting photos of myself wearing shorts on the internet. Goodness.
And one last thing: While I was sewing my Souvenir Dress a couple of weeks ago it occurred to me that I could make a similar dress for S by lengthening the Oliver + S Class Picnic Blouse by a couple of inches and adding a ruffle for the hem. We even took a photo together for you. (See? Mother-daughter dressing? I'm finally there.)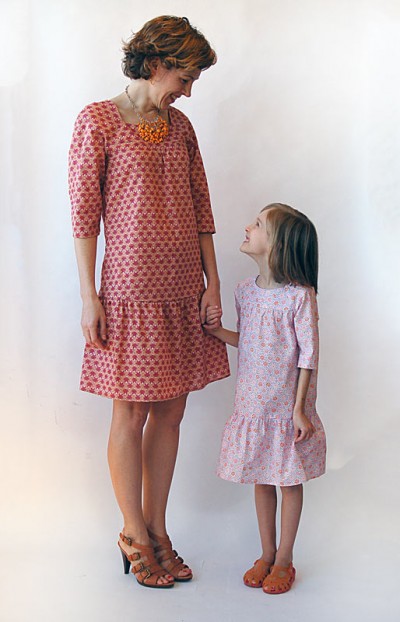 So there you have it: two mother-daughter designs, in one season.