It's feeling very spring-like in New York this week, in more ways than one.
Not only has it been warm outside. I've also just spent the last few days listening to spring trend forecasting presentations, and the one theme that's resonated through every presentation has been the prevalence of white in color palettes: white with pastels, white with pure and vibrant sorbet shades, white with cool colors, and white with warm colors.
I found myself nodding and nodding inside while I listened, since it's exactly what you'll be seeing from us this season. And it's starting to show up at JoAnn stores now!
I was inspired by lots of color for this collection. The palette is split into two separate palettes, one with warm colors like pink, orange, and yellow and the other with cool colors like blue, green, and turquoise.
This season we've selected lots of textures, too: smooth and soft sateen, loads of glorious floaty and lightweight sheer lawn (sheer and light and floaty and voluminous is another theme for the season!), crisp fresh poplin, and the rich texture of drapey and luxurious twill. These fabrics and prints are all about textures, both for the eye and the hand.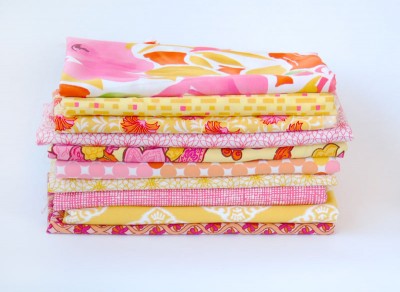 The prints in this collection are inspired by Lisette's usual nomadic ways. She found inspiration in antique cloisonne in China, block prints and ikats in India, and fresh geometric prints in Scandinavia. The prints are designed to work together, since fashion trends are all about mixing prints these days.
I'm usually a cool color person, but lately I've also been gravitating toward the warm colors. Pink and yellow are really capturing my imagination (and are making their way into my wardrobe) for the first time in quite a while! I'll be curious to see which colors and prints you like best. You can see the entire fabric collection here and at Jo-Ann stores across the United States.
Happy spring!