As we start the countdown to the holidays, I've been thinking about handy notions and tools to get for my sewing friends (and one or two for myself). Once you have the basic tools it's nice to add a few key items to your sewing room. Here's a list of our fave notions and tools for your sewing gift list: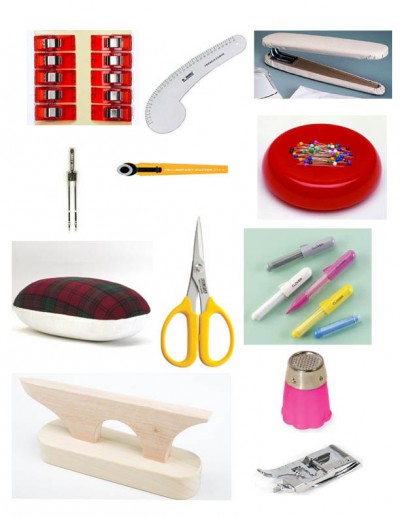 (starting at top left)
Wonder Clips: These are the perfect alternative to pins to clip and sew heavier fabrics, multiple fabric layers, vinyl and leather, pile fabrics, quilt binding, piping, and more.
French Curve: Use this ruler for making pattern alterations to curved pattern pieces such as necklines, armholes, and smoothly connecting curved lines. These are available in different sizes and in both clear plastic and metal. It's handy to have a set of them for all your needs. Add a hip curve to your list to round out your pattern drafting ruler set.
Sleeve Board: This mini ironing board is ideal for pressing sleeves, shoulders, zippers, or any hard to reach and small items. And it's great for small sewing spaces!
Twin Needle: Use a twin needle for a perfect double line of topstitching at hems. Often used with knits, the needles come in a variety of widths, and you'll need two spools of matching thread plus bobbin thread for stitching.
18mm Rotary Cutter: A mini cutter is great for cutting small curved or intricate pieces and trimming seam allowances quickly and easily.
Magnetic Pincushion: If you get pins all over the place, like I do, then you will love a magnetic pincushion. It makes pin cleanup a breeze and you will lose fewer pins.
Pressing Ham: A ham is a must-have for pressing darts and curved seams.
5″ Precision Applique Scissors: This is a great scissor size to have between your embroidery scissors and sewing shears. They are very sharp and perfect for clipping seams, trimming seam allowances, and cutting small pattern pieces.
Pen Style Chaco Liner: With the ease of a pen, this liner makes a fine line of powdered chalk for transferring pattern markings, labeling pattern pieces, and tracing templates. They come in a variety of colors and the chalk easily brushes away.
Point Presser and Clapper: This classic pressing tool makes pressing points in narrow spaces, collars, cuffs, and corners a breeze. Use the clapper to flatten bulky seams.
Protect and Grip Thimble: Handsewing enthusiasts will love this handy thimble. It has a metal tip and rubber body so it's comfortable to wear and gets the job done.
Edgestitch Foot: If your edgestitching is never as straight as it should be (like mine), an edgestitch sewing machine foot could be your new best friend. You can also use it to stitch-in-the-ditch, make pintucks and pleats, and sew applique stitching.

Look for these items in your local fabric store. Tell us what's on your sewing wish list this season and let us know your favorite notions and tools!