I completely forgot to put on the scarf I had been wearing when I got dressed in the morning, so I feel like this photo is incomplete. (That's what happens when you wait until after lunch to take a photo.) But I wanted to show you the pants, and that's what this photo is really about.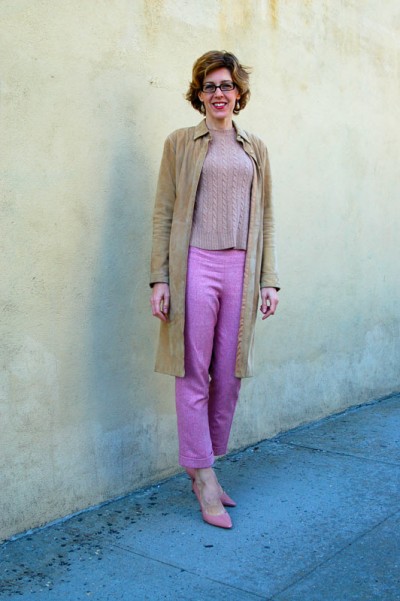 These pants are made from the Portfolio pattern. I eliminated the button tabs and made them from a wool/cashmere herringbone I found at Mood last summer. They're lined with Bemberg, which is my favorite lining quality.
It's very easy to line these pants. Just sew up the lining separate from the outside fabric and slip the lining inside the pants before attaching the yoke. Baste the two layers together at the top and then attach the yoke. I finished the hems separately, and the lining helps to give the herringbone fabric a little more structure and makes it less drapey.
The jacket is suede, and I've owned it for more than 10 years now. It's a classic style that I wear as both a dress and a jacket. You could make a similar jacket using View A of the Traveler Dress and making it in Ultrasuede.