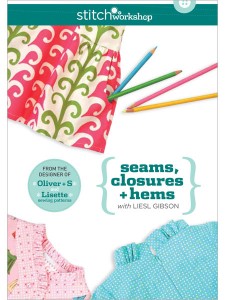 We're happy to announce that Liesl's two video workshops, Seams, Closures + Hems and Apparel Sewing Basics, are now available for purchase here on the Lisette site.
To celebrate, we're giving away a copy of the second of the two DVDs. To enter the drawing for a free copy of Seams, Closures + Hems, leave a comment telling us what your favorite seam finish is.
One entry per person, please. Comments may be subject to moderation before they are published, so don't resubmit it if your comment doesn't appear immediately. (As long as you didn't see an error message when submitting your comment, you entry has been accepted.)
The drawing will run until 1:00PM ET on Dec. 1 at which point we will turn comments off and will ask our friends at Random.org to help us pick a winner. If your name is drawn, we'll contact you via email to get your shipping address.
(Oh, by the way, whatever you do, do not check that little box below that says "Notify me of followup comments via e-mail." Trust me. You don't want your inbox to be inundated with emails from strangers telling you about their favorite seam finishes.)