Everyone has their favorite go-to sewing books on their sewing shelf. Liesl mentioned some of her favorite pattern fitting and alteration books here and here. It's also great to have a few general sewing reference books that take you through the basics and beyond. Here are the reference books I regularly reach for when I need creative ideas and technical assistance:
Claire Shaeffer's Fabric Sewing Guide – Hands down this is the most used book on my sewing shelf.
I reach for it primarily when I'm planning a new project with a fabric I haven't sewn with before or sewing a tricky fabric that needs to be handled with care.
This comprehensive guide will ensure you are using the right needles, notions, and stitching techniques on the right fabric. It also includes great troubleshooting advice for working with tricky fabrics from fabric prep and cutting tips to seam finishes and hem applications.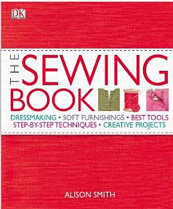 The Sewing Book by Alison Smith – I am a visual learner, so this hefty technique guide wins points from me because everything is shown in big full color step-by-step photographs. I can look at the photos and know exactly how what I'm doing should look like on that step.
I use the book to assist me with techniques that are hard to visualize with just written directions and to review lots of technique options for changing or creating a pattern.
Particularly ideal for garment sewers, whether you are putting in facings, setting in sleeves, or sewing a lining, this book shows you all the essential techniques you need to make almost anything.
The Art of Manipulating Fabric by Colette Wolff – If you want to get creative with your sewing this unique book shows how much you can do by experimenting with fabric manipulation and three-dimensional fabric effects such as gathering, shirring, ruffling, tucking, pleating, weaving, quilting and more.
I turn to this book for interesting techniques that can turn a simple project into something extraordinary. Now, don't let the black and white photographs and text-heavy design scare you away from this book. There is a wealth of information here that you won't find anywhere else. If you are an adventurous sewer looking for new ways to work with fabric, then this book is for you.
Do you have these books on your shelf? How do they work for you? In the comments feel free to add to my list and recommend your favorite general sewing reference books.