Today we're starting a new feature called Wear Your Style Friday. Each week we'll post a photo of something Lisette that one of us has made showing how we incorporate that piece into our wardrobe.  We'll show you a variety of pieces, and some of them may show up repeatedly in different outfits. Sometimes we'll feature Lisette fabrics, and others times we might show you how a Lisette pattern looks when made in wool, silk, or other fibers.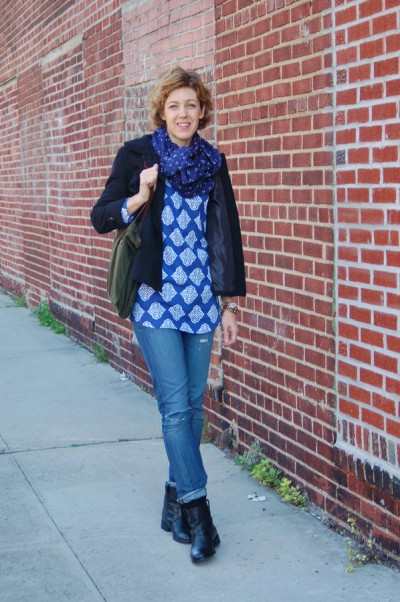 So to get things started, I shortened my Itinerary Dress by about four inches and turned it into a tunic. The print just happened to work perfectly with one of my favorite scarves, left over from a runway show when I worked for Ralph Lauren. (I have to wrap the scarf around my neck about 18 times, it's so long. I guess they were going for drama with the length!) I dressed the tunic down with jeans for work, since we're pretty casual here.
I hope you'll be inspired to post your own photos to the Lisette Flickr group. Show us how you wear your style!