I'm happy to report that our newest Lisette fabric collection has begun arriving on shelves at Jo-Ann stores across the United States. You can preview the whole collection in the fabric section of our website.
This collection is a transitional one to help you move from summer into fall. The colors in the group are a bit softer and more muted, making them great for late-summer and early-fall. The collection includes an eclectic group of prints designed to coordinate nicely with each other and with the new season of Lisette sewing patterns which will be released later this month.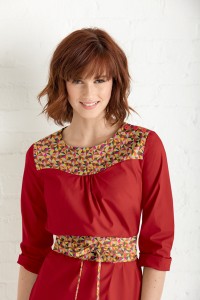 As with our last collection, this one includes fabrics in a wide variety of fabrications.
The sateens in the group include a large-scale, two-color floral print in two colorways that is great for dresses, a mosaic tile geometric print designed for dresses and blouses or shirts, as well as some solids to coordinate with the prints. (This image shows a solid paired with the mosaic tile print.)
This season we have a delicate little two-color print in lawn that comes in three colorways. All three play nicely with the other larger-scale prints in the collection. The lightweight fabric is great for blouses and shirts.
There are also a few lightweight canvas ikat stripes in the group which work well for a wide variety of purposes: skirts, pants, dresses, and jackets. This print can be dressed up or down, and the fabric is substantial but still drapey enough to be used in many ways.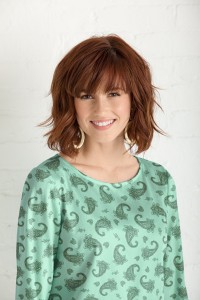 The twill bead stripes makes great skirts or jackets. The texture in the dots softens the print and gives it lots of versatility. The solid twill colors also included in the group help expand your sewing options.
There is also an interesting block print-inspired paisley in a poplin which comes in two colorways. This fabric would be perfect for making a very cute late-summer dress or blouse, so pick yours up quickly and start sewing now!
Both the ikat stripe in the canvas and the textured bead stripe in the twill will work well with one of the new Lisette sewing patterns that I designed specifically for stripes like these. I'll have more on that soon as we near the patterns' release date.
In the meantime, pay a visit to your local Jo-Ann store to see the collection in person. Quantities for this collection are limited, so don't delay.