I'm excited, finally, to be able to take the wraps of our two new Lisette styles for fall. This season we are releasing a combination blouse, skirt, and dress pattern and a unique tailored dress pattern that features an optional obi sash.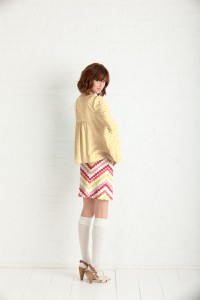 The Continental Blouse, Skirt, and Dress pattern features a blouse and an A-line, bias-cut skirt with an asymmetrical seam that will let you dress up or down for any occasion, depending on your fabric selections.
The relaxed, pull-on blouse features an interesting gathered-back detail, which you'll be able to see if you click to enlarge this photo.
The bias-cut skirt is designed for color blocking or to highlight mitered stripes at the front and back seams for an interesting and unique look. I created this design specifically to showcase the two twill polka dot-stripe prints (one of which the model is wearing in this photograph) and the two canvas ikat stripe prints in the Fall 2011 Lisette fabric collection. But don't let that limit you. The style will be equally interesting done with many other fabrics of your choice. I think it would be great for textured fabrics as well.
The pattern also includes an easygoing belted dress option that's perfect for late summer and early fall and can also be layered as we move into cooler weather. It looks great belted and can also be worn loose for a casual style.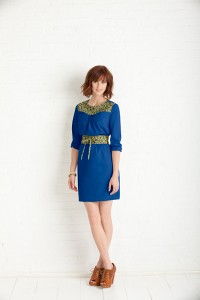 The Itinerary Dress sewing pattern is a stylish pull-on dress that includes a gently curved yoke with soft gathers at the front, a button closure at the left shoulder, and an optional matching obi sash.
The pattern lets you mix prints and solids to create the perfect dress to accentuate your style. For a simple,  relaxed version of what's shown here, you could also omit the sash and make the yoke in the same fabric as the body of the dress.
Both styles come in the standard two Simplicity size ranges: 6-14 and 14-22. They are available now from our website and everywhere Simplicity patterns are sold.
You can see more images of each style in the patterns section of our website. And we'll be showing you additional versions of these styles soon. As usual, I can't wait to see how you make them into your own style.