Everyone needs a great little jacket. Something that can go to a business meeting just as easily as it can go to dinner. Or to the playground.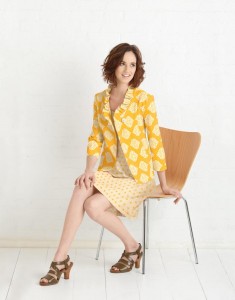 It would be nice if that jacket was fairly easy to make. Not a big time commitment or terribly complicated. No lining so it can be layered easily and can go into the washing machine as needed. And maybe a couple of different collar options to keep things interesting: a band collar and a sweet (but not too sweet) ruffle. A flattering fit: not too boxy but not too fitted. And just the right length so it looks great over a dress, skirt, trousers, or jeans.
OK, now how about a nice, simple dress to go with it? Not a boring dress. Let's keep it interesting with some diagonal darts at the center front, a gently pleated not-too-full skirt, and a scooped neckline that will show off a beautiful necklace. This dress can be fitted beautifully thanks to a side zipper. (You'll be surprised. That zipper isn't as difficult to sew as you might have imagined!) It's a great summer dress and could also be made in dressy fabrics for special occasions.
We've given you all these things in our new Passport Dress and Jacket sewing pattern. Pick your design options, select your fabric, and use it to sew something that fits your personal style.